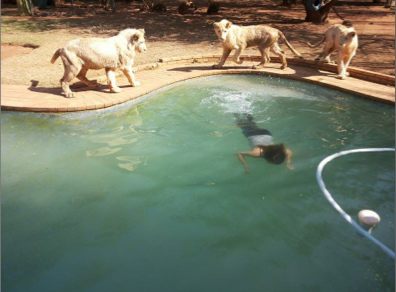 The minute I started driving from the main road to the farm, I knew that this was going to be a different experience. You drive through a 2500 hectare game farm where you can spot anything from a little bunny, warthog, and monkeys to sable antelopes, zebra or giraffes.
Right there, in the middle of the massive farm, I was taken to the accommodation house for my stay! The warm welcome we got from the staff & other students made me feel like I was at home straight away and walking in to my bedroom seeing the view I was going to have for the next two weeks was like a smack in the face! It was awesome!!
Swimming pool, lapa, buffaloes eating about 50 meters from my window and last but not least - the cubs were right outside!!!
Little Nikita was running around having her playtime, which they all have at different hours throughout the day, while the caracals were running around hunting the birds on the lapa roof.
Incredible first impression? CHECK!
The days went by and we eventually got used to getting up at half past 6 to feed the little cubs, cleaning enclosures, keeping the bigger cubs active while they had their playtime, feeding them, feeding caracals, get some lion cuddles once in a while. That's what we came here for, right?
We had a lot of free time in between the feedings and playtimes; you can do whatever you want to! Jump in the pool, watch TV, go into the enclosures for some extra cuddles, 5 o'clock is Savannah time so you can have a drink or two.
Yadie, the lovely co-owner, organizes all kinds of different outings for her volunteers, like rhino spotting in Marakele National Park, Zip-Lining, bushwalks to the top of a hill where you can watch the beautiful African sunset, a trip to the dam where you can go fishing and canoeing or just relax etc.
The lions all here because they, for all kinds of different reasons would, not are able to survive otherwise.
The love and attention that the staff provides for their animals is remarkable. To really understand what this place is all about, you have to come see it with your own eyes!
My favourite memories from my two weeks - just to mention some;
When I jumped in the pool to get a ball that sank down to the bottom while I had the three biggest cubs circling around the swimming pool!




After lunch nap with the baby cubs!




Skydiving over Rooiberg!




Punchday!




Waking up to the smell of Nikitafarts! - The dam!



The tears came from sadness when I had to leave this place, I ended up having the time of my life and I am definitely coming back to volunteer and visit my friends.
Love,
Petra Thomsen... x