Entering the Wildlife Centre in Rooiberg South Africa I took in the red soil, the yellow grass and the black trees. It was exactly how I had pictured it!
We were greeted by other volunteers and one of the partners of Ingwe. I was with a group of 11 girls from all around the world. I had traveled the furthest as it had taken me 32 hours to arrive in Johannesburg.
All the volunteers spoke English. Some more fluent than others. It was funny hearing them pronounce words they weren't familiar with. One girl asked if she could see the "picture-graphs" on my camera.
Some also weren't familiar with New Zealand and asked how long the drive was from New Zealand to Australia.
After introductions we set out to see the lions. Seeing the 4 week old white lion cubs brought tears to my eyes and it was so surreal. Watching them play and stumble around the yard was incredible. Stroking a lion for the first time seemed like something I had been dreaming of in the time leading up to my trip.
The larger lions were stunning. Their paws were already larger than my hand at only 7 months old. It took a while to adjust to roaming around with lions and having them lay across the table that you're sitting at. They soon became more comfortable around us that we could play and interact closely with them.
Giving them belly rubs was incredible.
Within the first week my camera and phone memory was full from photos.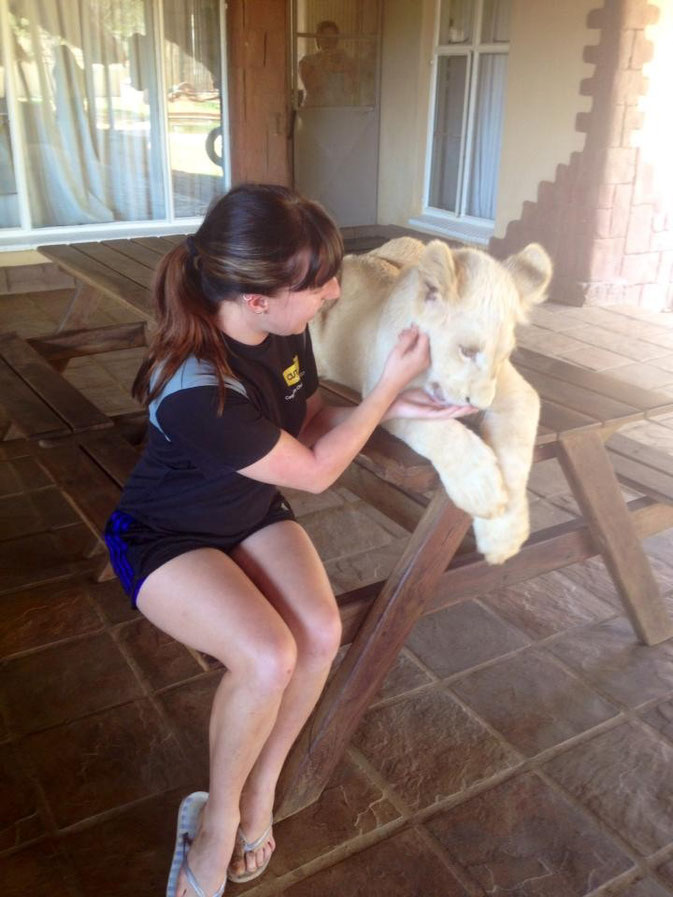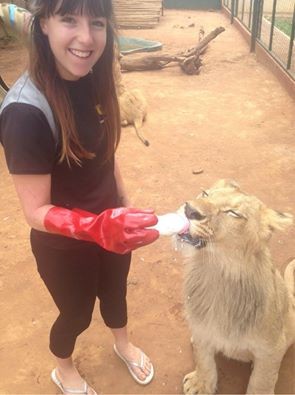 Feeding the larger lions was difficult at the start and sometimes daunting as they were already so strong and not even a year old. But once I had established their personalities feeding became more relaxed and even more enjoyable.
One night we watched the sun set as we sat on a hill that overlooked the dam. Hearing the lions roar brought goose bumps to my skin. Each morning I would wake up more excited than the day prior. It was hard to say goodbye to the girls who had signed up for only 2 weeks as we had become such good friends. But with their departure came the arrival of more excited volunteers from around the world.
One of the days I was here I was Lucky enough to help some workers to dart some Wilder beast, Buffalo and Eland. They were moving them to another area so they could start breeding. We had a vet with us to ensured the animals were okay an injected them with vitamins, antibiotics and also sprayed them to get rid of any ticks they might have. Getting so close to a Buffalo was incredible.
I was able to pat one of them which was unbelievable as they are such a massive animal. Seeing how much care was taken when moving each animal was really heart warming as I knew they were in safe hands.
There were definitely days that I grew homesick. But looking out my window to see lions playing and just over the fence having wart hog, buffalo, stable and many more animals so close made it easier to deal with. 
It's easy to say that this has been the greatest time of my life and I will definitely be returning.