After 10 hours of driving we had arrived at our stay for the next three days. We had the sweetest little rooms all ready for us.
I was paired up with girl from Germany to bunk with. The rooms had straw roofs and looked just like tree houses. Opening the door to our room I was thrilled to see a mosquito net over each of our beds. We had an outdoor shower which looked out into the bush. That night I had a tiny frog rudely join me in there.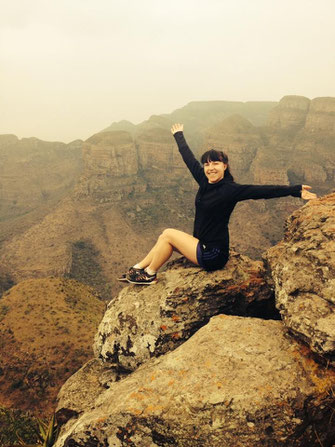 The following day our guide took us around a local area where we shopped around the town and had some lunch.
For the girls who were brave enough we signed up to do the big swing. A 70 meter drop into a gorge backwards and then into a giant swing. My legs shook and knees buckled as we were told to lean back.  I somehow managed to get on the lap of the girl I jumped with during our fall.
Once it was over I had a massive grin and my day was made!
From there we were taken to Blyde River Canyon. Even on a rainy day it was stunning. I had never been to a canyon before and I couldn't peel my eyes away from the view.
Our last stop before heading back was to Lizbin Falls. By then the rain was pouring so we all ran out to snap a few pictures before running back to the van.
Looking back at my pictures I regret not staying to take in the landscape for longer.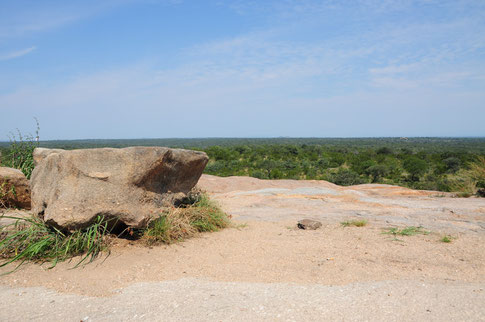 That night as we curled up in bed in our little tree houses there was rain and lightening thundering down. I could hear trees cracking in the distance. I had never experienced anything like it before. It was incredible and a little frightening.
We were up at 4am the next morning. I could hear a wild lion roaring in the distance. I was buzzing with excitement and could barely finish my breakfast. Wrapping up in blankets we piled onto the safari trucks and headed to Kruger National Park.
One word "HUGE". This word flew through my mind as we drove through Kruger National park.
We were fortunate enough to see the last female white Rhino left in Kruger. The next week she was taken with the others to a secret location to avoid being poached. Unfortunately she had an infected bullet wound on her side. But that was soon fixed. 
Suddenly our guide changed directions and darted off in another. I looked up to see more vehicles had gathered up ahead. Looking over the long grass my eyes meet a wild lionesses eyes. She was stunning. My smile grew as I spotted two cubs around 3 months old playing next to her.  
Following the road we were greeted by cheeky monkeys. Some had babies attached to their backs. I had to take a double glance to make sure it was actually a baby I saw as they were so small. Some of the monkeys started mooning the trucks and we all had a laugh.
A bit further up we spotted a cluster of vultures gathered around an eland carcass. They were much bigger than I had imagined. Their wing span was already enough to surprise me. One of them flew off and I saw her in the distance and land on a tree top. Her massive nest wasn't hard to notice and then a tiny head popped up to take the food from her.
We then stopped at a water hole. Everyone started snapping pictures and I was confused as to what they were capturing. Suddenly I noticed what I thought was a rock until it had little ears that started to shake. Hippos! Unfortunately as they don't have sweat glands none of them rose above the water or came out during the day. 
Our final stop was sudden. We were in the middle of the road. I started peering around try
ing to spot what was around. Suddenly a herd of Elephants began to cross the road in front of us. We all began taking photos. They were so beautiful and so huge. We were told all about their Ivory tusks and how things work among their herds.  

I had my eyes peeled all day to spot a leopard. After 13 hours of searching I had no luck. We all had heavy eyes as we left. I had a fantastic day and I would highly recommend this to anyone who is offered it! Seeing the animals at my project was one thing but seeing the animals in the wild was incredible!