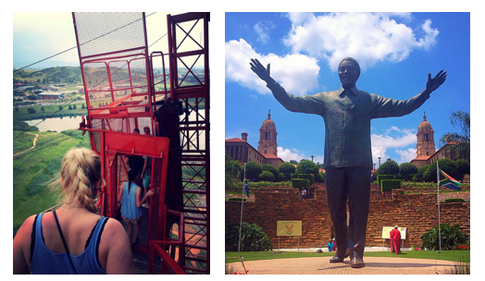 One minute I was looking through Africa trips on a website and the next thing I know I'm getting vaccinations and booking flights!
I feel like I didn't even need to do much, the team at IWH were so helpful and they had pretty much everything planned from airport pickups, the drop off and everything in between. I had exactly three months until it was leaving day, they absolutely flew by and before I knew it I was waving goodbye to my extremely anxious parents at Auckland airport. 
I couldn't believe it was really happening- it didn't hit me until I was in the car driving to the hostel after 36 hours of flying and airports. Rueben, the driver, was getting an absolute earful of all my questions as my fatigue turned into excitement. Johannesburg is by far the biggest city I have ever been in, I couldn't see where it ended! And coming from Rotorua with almost 70 thousand people it was a massive shock that the wider Johannesburg area has more than 10 million.
The orientation was intimidating at first, I was the last person there and most people had come with their friends or partners - I was riding solo. And to make it even scarier I was the only Kiwi there too, but the girls and guys made me feel so welcome and were super inclusive.
The trip to Soweto was when we all really bonded, thanks to a near death experience involving going up the side of a tower in a cage elevator to get a view from the top. Turns out we didn't die but it sure felt like it at the time! The rest of orientation involved getting to know each other and the wonderful country that we would call home for the next 4 weeks.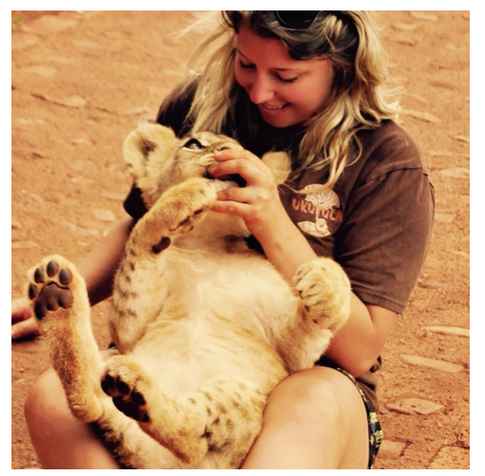 On the last day we were all dispersing to our different projects, I immediately became friends with a quiet girl, Nele, who was to become my roommate for the next month- turns out she's not so quiet and we got along famously. The drive was approximately 2 hours, but with all the anticipation it felt like minutes.
Pulling up to the Save the Lions Project we all took notice of the "Stay in your vehicles, you may encounter free roaming lions" sign, we were finally there!
Couple more metres up the long and ridiculously bouncy driveway we spotted a group of giraffes just cruising along. After being introduced to most of the staff and got a look around the lodge it was time to meet the babies!
I had seen the odd lion cub on occasion and had a bit of a cuddle but these guys (and girls) were particularly gorgeous! Tiny little sleepy faces, massive ears and feet, all lying on top of one another even though it was midday African heat.
We were warned that they were likely to be cranky, but I would be cranky too if I was taking a nap and someone came and wanted a cuddle, so we let them be and went to visit what Haran kept referring to as the "Puppies". I kept telling him that they're not puppies, but in retrospect they were more like cheeky puppies than the Devils they're commonly known as.
These 4-6 month old critters were the best part to my African adventure! Within 5 minutes of being in the Devils enclosure I was up to my elbows in red dirt with a baby lion climbing over me and another two more trying to get in on the fun. Surprisingly, it felt so natural to be covered in little kings and queens of the jungle; I was immediately comfortable with them and them with me.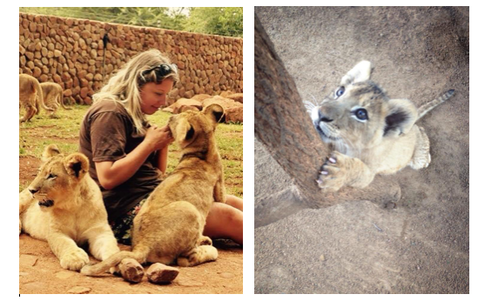 The day to day activities went like this; we were split into two groups, Rangers and Cubs, Rangers went out on the back of the pickup trucks with the real Rangers for general maintenance of the park.
We would go down the road to fetch vegetables for the Zebra, Ostriches, Warthogs etc. or we would go to the chicken farms to relieve them of the deceased chickens for our little devils, walking lions (also known as gremlins), Cheetahs, Caracals, Hyenas, you name it.
That job was particularly disgusting, but it can't have been all bad because one day we found a live chicken in the dead chicken pile!
Long story short- Nele and I named her Gemma and she immediately became an important member of our Africa family.
We had to do the odd trip to fetch a cow or horse for the big lions, which was Max's favourite thing to do because he had popped his shoulder and wasn't good for much after that, it made him feel important. So add a bit of cleaning, sunburn and a bunch of banter and that pretty much sums up the Ranger days.
Cub duty days involved a lot of sitting. Since lions are in the cat family, they like to sleep…a lot. Which was fine for me - I'd get all up in that. Using one lion as a pillow, one for a foot rest and maybe another one or two just for company. A lot of naps were taken on these days. But when they were awake - no one was safe! Teeth and claws and stalking and jumping, if you were fine with getting scratches, bruises, and ruining your clothes it was a bunch of fun!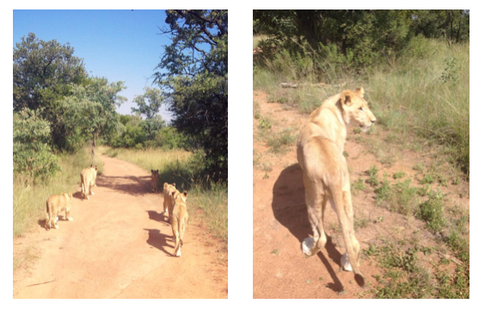 The day would always end with a dip in the pool. Soothing the sunburn, cooling down and a really fast way to get all the dirt off of you before trying your luck in the shower. Then there was dinnertime and of course a few drinks and games at the bar before calling it a night, (some nights ending up bigger than anticipated and ending up getting back in the pool or trying to climb the rock wall).
However; we did get some days off just to hang out by the pool and go on game drives around the park. Every now and again we went on a walk with the walking lions. These ones haven't sexually matured yet but they're pretty much full grown!
Hard to imagine I know, but we were actually walking freely next to big lions while they run around, jumping on each other, climbing trees, typical lion things. They misbehave a little though and the walkers have to bribe them with frozen baby chickens.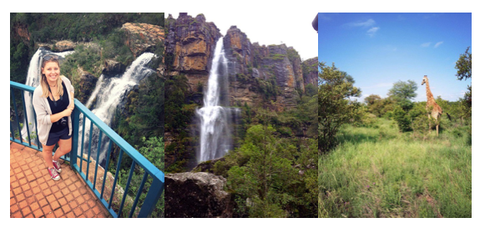 About a week in to our stay at the Save the Lions Project a handful of us met up with our friends from orientation and ventured off on our Kruger and Panorama tour. We arrived at the bush camp, which is exactly what you would assume it is… a camp in the middle of the bush.
Totally awesome and definitely recommended- as long as you remember to take your malaria tablets, which I didn't. Needless to say I was paranoid about mossies most of the night, but there were mosquito nets so I didn't need to worry!
First day was Panorama, and oh my goodness the photos do not do justice!
Absolutely beautiful scenery, did not even feel like Africa. January was in the middle of rainy season so the bush was as green as you would see in New Zealand. Waterfalls, cliffs, mountains, rivers, and a cheeky baboon, the whole day was incredible from start to finish.
The next day was a full day safari at Kruger National Park. We got to see all sorts of wild animals, just chilling in their natural environment.
We got to experience almost the whole Big Five! No sign of the Leopard, but that was replaced by a Hippo doing the "flicking poo everywhere with its tail" thing that they do, a couple of Buffalo doing a bit of a pose for us for photos and an Elephant giving itself a bath while we were parked less than 10 metres away.
It was absolutely surreal how up-close and personal (whilst at a safe distance!) we were to these wild animals.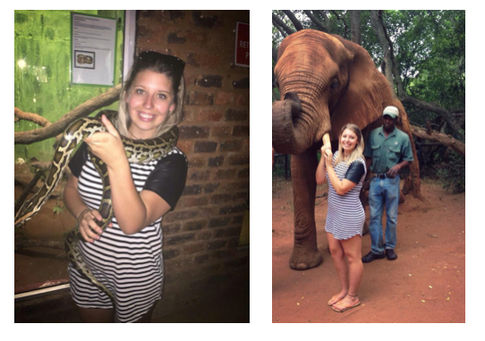 Getting back to the babies, we only had 3 weeks left with those gorgeous little creatures and we still had to fit in the Monkey and Elephant sanctuary, shopping at the markets and a whole bunch of other optional day activities.
Nele and I decided to visit the monkeys and elephants, we didn't want too much time away from the lions.
So for half the day we were walking elephants by their trunk, getting fed a sandwich by a Capuchin-(well, he was trying), getting trunk kisses, feeding an old Bull and getting my hair done by a Spidermonkey.
Just when I thought the day couldn't get any better we ended up at a reptile park and petting zoo. Of course we had to pay an extra R70 (roughly $7.50) and the man let us hold everything!
So we got a cuddle with a Burmese python, baby Croc, Racoon, Meerkat, and several Lizards as well as checking out a bunch of other cool animals.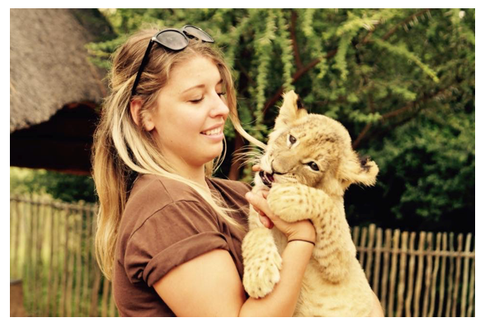 Our time at the Save the Lions Project was beginning to wrap up, we had already said goodbye to so many of our new friends and the time to farewell the animals was coming up.
Our last day involved holding back some tears as we made our way around the cubs saying our last goodbyes. I had spent the morning at the little cubs hut, four weeks ago they had started off as grumpy little critters but as they got use to me I became extremely fond of them; especially my little boy Len.
Only minutes before I was leaving he came over and curled up in my lap and fell asleep- because it wasn't hard enough to leave as it was!
I spent the rest of my time at the project trying to pull myself away from the Devils, it had been such an amazing experience getting close and extremely attached to one of natures most beautiful and majestic creatures. I will never forget the time spent at the Save the Lions Project and the bonds I made with the African lions, and of course the friends I made during my time there. It was a very hard time getting into the van and saying my final goodbye. 
A few of us weren't flying out until the next day/night so we had one more night to spend at the hostel where we spent orientation and one last chance to have some fun with our friends. 5 weeks in South Africa had gone by so fast at yet I had experienced more than a lot of people would in a lifetime.
I was definitely not ready to leave this beautiful country but my flight and 39 hours of travelling was calling me. I'll be sure to return to South Africa and hopefully have a chance to see one of my beautiful cubs one more time. 
For anybody thinking of doing a similar thing, or actually heading to the Save the Lions Project, I would absolutely recommend it!
The only advice that I have is just get super involved, this trip was a once in a lifetime experience for me, it wouldn't have been the same if I didn't get down in the mud with the lions, get all scratched up, fight over a chicken with a Cheetah, wrap a Python around my neck and take the time to get to know a bunch of really interesting and really fantastic people who made my trip as amazing as it was.
~ Georgia R - Rotorua NZ
Read how you can get involved in this project like Georgia did