When I first got to the South Africa Dream Horse Safari, I was super nervous. Such a new situation with so many new people!
So many questions and thoughts ran through my head. I did not quite know what to expect...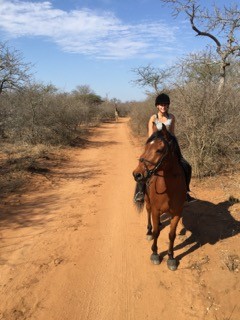 What were were the stables like? I hope the family is nice! I wonder what the other people staying there were like.  What parts of the world were they from?  
When I finally arrived, I realized there was nothing to be nervous about! The family was so nice!  The people I met were so amazing and kind! And I just know that I made lifelong friends. 
The bungalows were super cool and in the middle of the bush surrounded by wildlife.  There was even a watering hole by our outdoor kitchen where wild big game like zebras, giraffes, warthogs, hyenas, and buffalo. 

Everyday was a surprise, you never knew what you would see at the watering hole at all hours of the day and even at night!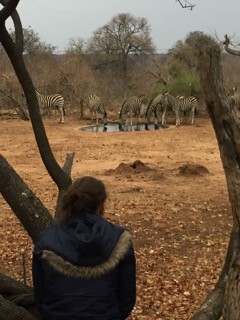 Most mornings were spent at the stables, which was a short 5-minute drive from base camp.  The stables were beautiful!  Wildlife was everywhere at the stables.  
Not only were there tons of horses, cats, and dogs, but there were warthogs, wild birds, and depending on the season, there were even dung beetles.  Right before I left I got to see a dung beetle in action, which was much more interesting then I ever thought it would be.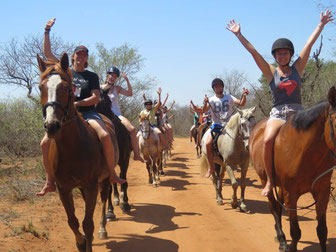 There were always plenty of activities to do at the stables. Some days we would work the horses in the arena and practice honing our dressage skills.  

Other days we would take the horses out on the trails that are right across the street in the bush.  On our out rides we had seen zebras, impala, giraffes, and kudu.  They do not scare easily on the horses so the animals were in very close range, which was amazing to see!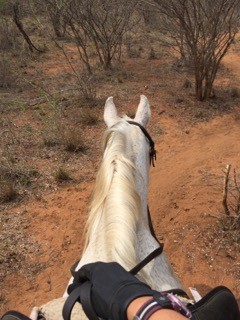 On Wednesdays we would spend the day having jumping lessons.  Jumping was my favourite activity, and I think it is the horses' favourite too.  They all get very excited to jump, and the more you do it the more you improve and get to jump higher!  

The owner, Traci, is very good at helping you improve your skill as a rider.  She truly cares about advancing your skills and gives you the necessary tools to do it yourself.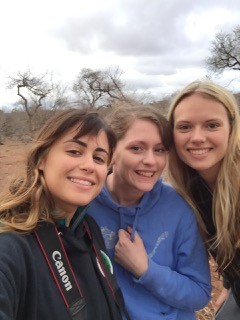 After we were done at the stables, most days we would go on game drives, where we would be driven around the bush in an open jeep to see all the animals on the reserve.  It was always an exciting experience, because you never knew what you would see.

Sometimes we would go on drives at night with a big flashlight, and sometimes we would go in the morning and watch the sun rise.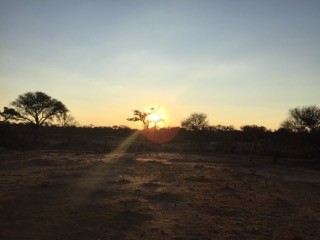 On Thursdays, we would go on excursions that the group would mutually decide on.  The adventures I went on included, Kruger park tour (which we also did with other volunteers from orientation), Moholoholo Animal Rehabilitation centre, the three waterfalls, and the picnic spot. 
We even got to go on private reserve and saw white lions! Staying at this project was an amazing experience. 
I would recommend this trip to anyone who has a love for horses or just animals in general. It was an amazing life experience I will never forget and will treasure it for all my years to come.
- Rachella, California, USA.